Next month's game:
Transarctica

Hello!
Ooof, it's been a while, hasn't it? With the summer holidays going on, we haven't managed to record the podcast episode for Quest for Glory yet, which we've played in August. But! In the meantime, we've got something quite spectacular for all of you 😀
PODCAST EPISODE #7
So as you've guessed from the title, Florian ("rnlf") and Martijn ("Tijn") recently had the opportunity to have a chat with Lori Ann & Corey Cole, who famously created Quest for Glory. We sent them an e-mail out of the blue without any expectations, and they were actually so nice to agree to be on the show.
We talked for over an hour about all sorts of subjects: the early beginnings in the 1980s and getting hired at Sierra by Ken Williams, how Quest for Glory came to be and what it's like working on games all your life.
We also talked about Hero-U, the game they are currently developing, which is in a lot of ways a spiritual successor to Quest for Glory. Hero-U had a successful campaign on Kickstarter back in 2012, but if you still want to support this project, you can go here to pre-order the game and/or leave a donation.
Please enjoy this special episode of DOS Game Club. We certainly had a great time talking to these wonderful and insightful people.
[ download mp3 ] (96 mins, 36 MB)

Hi there!
We've got another episode of the DOS Game Club podcast for you! Whoohoo!
PODCAST EPISODE #6
Back in July we played 1995's Command & Conquer by Westwood Studios and had great fun with it. In this episode, Martijn ("Tijn") and Florian ("rnlf") are joined by Marwane ("wan") and new time participant Philipp ("derphilipp") to discuss this classic DOS game.
[ download mp3 ] (85 mins, 35 MB)

Hello!
So, we're running a little bit out of sync here, because in June we played two games: Scorched Earth and Strike Commander. The episode about Scorched Earth was posted about about 2 weeks ago. Since then we've been working on the next one, while July was running to an end. Oh boy! We think it was worth the wait though, because this episode is really something.
PODCAST EPISODE #5
In episode 5 of the DOS Game Club Podcast, Martijn ("Tijn") and Florian ("rnlf") discussed Origin System's Strike Commander with the excellent Ben Lesnick.
Ben has been a Wing Commander fan for a long time and somewhat of an "Origin historian", who has gotten to know many of the people involved with the development of the Wing Commander games, as well as Strike Commander and other games by Chris Roberts and Origin Systems. He helps to run the Wing Commander CIC fan site over at wcnews.com and is currently working with Chris Roberts on Star Citizen.
Shout out to DGC member styryx who suggested Strike Commander to us. He sadly declined to join the podcast, but we're happy he suggested this great game to us!

Hello, hello!
Last month we have been playing 2 games: Scorched Earth and Strike Commander. We decided not to discuss both games in one podcast, but each give them their own episode. This is the episode about Scorched Earth, the one about Strike Commander will follow shortly.
PODCAST EPISODE #4
Joining usual suspects Martijn ("Tijn") and Florian ("rnlf") is a new guest to the show: DOS Game Club member Oddvar, known online as "dollarone". He was the one who suggested we play Scorched Earth, using the game suggestion forum.
We tried a little experiment and not just talked about Scorched Earth, but also played a multiplayer game while recording the podcast. If this was a good idea, well… you can judge it for yourself:

Hello Everybody!
Episode three is finally here! A small delay this time due to various reasons, but here it is.
PODCAST EPISODE #3
We played SimCity 2000 for the whole of May and discussed it in our typical roundtable. Tijn and rnlf are joined by previous podcast participants toasty and wan.
One thing we did was to play a succession game: We took turns developing the same city. Here's what that looks like: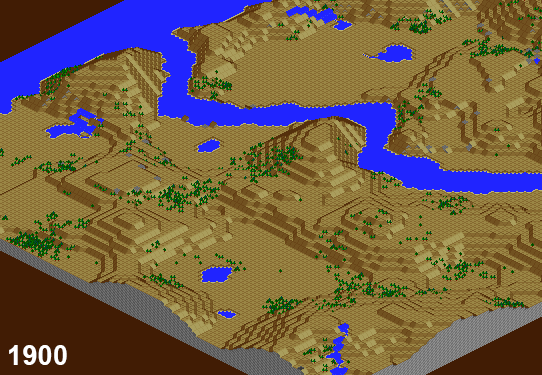 .
The current episode is around 95 minutes long, so around 90-100 seems to become the norm for our little podcast. Here it is for you to enjoy: