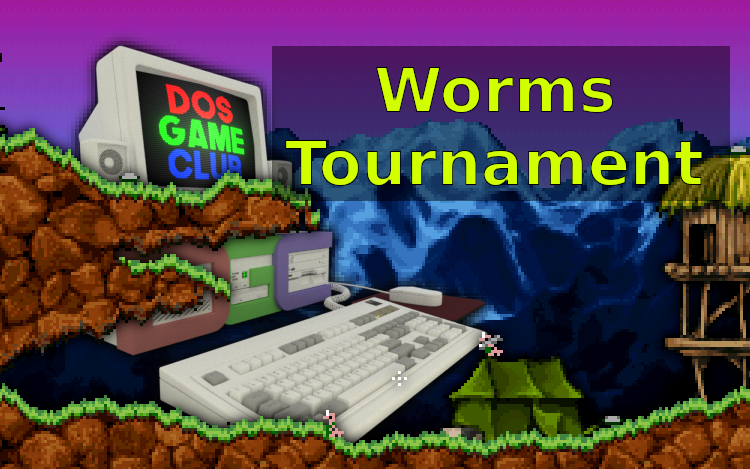 We're going to have a Worms tournament!
We don't know the exact rules yet, but what we know is that you can now register for it. All you have to do is create an account on our forums (if you don't have one, yet, which you really should!) and post your "I'm in" statement in the tournament enrollment thread.
Registrations are open until Sunday, January 19, 8:00 PM UTC. After that, we're going to figure out a proper tournament mode and all the remaining rules.
We'll be playing Worms United over a DOSBox IPX tunnel. Luckily that's exactly the version of Worms that GOG offers (for around €6 or $6), so it should be easy for everybody to get. We've written down how Worms network play with DOSBox works. Please get familiar with it and try it for yourself (you can run two instances of DOSBox locally and connect them both for testing).
Check back here or on the tournament forum for further information. We'll also post any updates on Twitter and probably discuss a lot about all of this on IRC.
FAQ
Q: Will there be prizes?
A: Absolutely not! We're doing this for the fun of it (and Worms IS fun)! I guess we will add a "Worms Champion" badge or something like that to the winner's forum user info, but that's about all you can expect.
Q: Does it cost anything?
A: Besides you needing to own the game and the running costs for your computer and internet, no.
Hey hello!
We've decided to accept voice messages from listeners for all future episodes. Our show is all about discussions and we try to invite people who seemed to be interested in our month's game to the show, but we figured, maybe some people don't want to be present for the whole recording, but still have something to contribute.
So, if you want to share your opinion, experience or trivia about the game we're going to cover in an upcoming episode, we're now accepting voice messages.
Simply record your message and e-mail it to us. Our address is:

.

Oh hello there!
Every year in October we try to pick a game that fits with the spooky nature of the Halloween season. This year that game was The 7th Guest, developed by Trilobyte and released by Virgin in 1993 on not one, but two (!) CD-ROMs.
Both our hosts Martijn ("Tijn") and Florian ("rnlf") aren't too familiar with this title, so we're excited that two very knowledgeable experts were willing to join the show and tell us all about what makes The 7th Guest a cool and special game. First of all it's Esko ("FireFyte"), who was previously on the Monkey Island and Tyrian episodes. Also joining is Adam ("Pseudo_C"), who was previously heard in voice messages, but now is the first time he's on the show as a guest. Both Esko and Adam are big 7th Guest fans and have been playing it since childhood, so they're the perfect people to share what makes this game great.
Enjoy!
[ download mp3 ] (134 mins, 108 MB)
RELEVANT LINKS:
* Forum thread with contemporary reviews, including some magazine scans by Pix.
* Promotional "making of" documentary about The 7th Guest (VHS)
* 7/11 soundtrack of both The 7th Guest and The 11th Hour, by George "the fat man" Sanger
* The 13th Doll, fan-made sequel with an official license from the original creators of The 7th Guest

Sail ho!
Back in September we appropriately played Sid Meier's Pirates!, the classic 1987 pirate game by Microprose. While not Sid Meier's first game by any stretch, it is the first game which has his name in the title, firmly establishing him as the famous game designer he's known as today.
We're excited to announce our regular co-host Florian ("rnlf") is joining Martijn ("Tijn") once again, after being absent for the past two episodes. Joining the show are David ("EvilCommieDictator") and Jonas ("don_amar"). David has previously been on the Knights of the Sky episode, and has also kindly supplied us with voice messages. Jonas on the other hand is completely new to the podcast, it's always great to see new members joining us.
So get your cutlass ready, arm your cannons, raise the sails and enjoy Pirates! Arrrgh!
[ download mp3 ] (124 mins, 99 MB)
RELEVANT LINKS:
* The Digital Antiquarian on the origins of Sid Meier's Pirates!
* Sid Meier's psychology of game design (GDC 2010)
* Print-it-yourself version Barbarian Prince, a solo board game designed by Arnold Hendrick, who would later work on Pirates! at Microprose.

Hello!
We're back with another podcast, and this is a big one! We're discussing the game we played in August, which was UFO: Enemy Unknown, known in North America as X-Com: UFO Defense.
As in our previous episode, regular co-host Florian ("rnlf") had to miss this one due to his holiday and moving house. Luckily everything is settled now, so he should be back for future episodes like normal.
Now that doesn't mean that our host Martijn ("Tijn") has to discuss this game alone, because thankfully there's no shortage of club members who are willing to be on the show. Joining this time are returning guests Jozef ("yozy") and Tyler ("corgibuttz"), accompanied by first-timer Matthew ("Canageek").
Also DGC member David ("EvilCommieDictator") was kind enough to send us a voice message.
Now it turns out UFO / X-Com is a big game, so we had a lot to say about it, resulting in an episode that's almost 2.5 hours long. Have fun!
[ download mp3 ] (146 mins, 117 MB)
RELEVANT LINKS:
* Talk by X-Com game designer Julian Gollop at GDC 2013 about the game
* DGC member Richard ("pix") scanned some contemporary UK magazine reviews of X-Com
* OpenXcom is a modern reimplementation of the original game with several enhancements and mod support.
* UFOpeadia is a great wiki with all sorts of X-Com resources, which has been running for a very long time.
* ADG #98 about X-Com by Pixelmusement / Kris Asick
* A cool collection of X-Com sound effects and music, recorded from various hardware

Hi fellow DOS fans!
Remember us? We used to make podcasts about DOS games, haha. It wasn't easy to schedule this episode about Theme Hospital, the game we played back in July. But we've pulled through and here it is!
Sadly Florian ("rnlf") isn't joining us for this one, as he's away on holiday and also moving house. Who did make it onto the episode are our regular host Martijn ("Tijn"), joined by returning DGC member Phil ("PixelProphecy") who has never played the game before, and new DGC member Edd ("vext01") who played this game as a kid back when it originally came out.
Enjoy!
[ download mp3 ] (98 mins, 79 MB)
RELEVANT LINKS:
* Peter Molyneux talks at GDC about the origins of Bullfrog Productions
* CorsixTH, open source modern reimplementation of Theme Hospital
* DGC member Richard ("Pix") scanned some of his old UK game magazines, with contemporary reviews of Theme Hospital